Creating a Sensual Sanctuary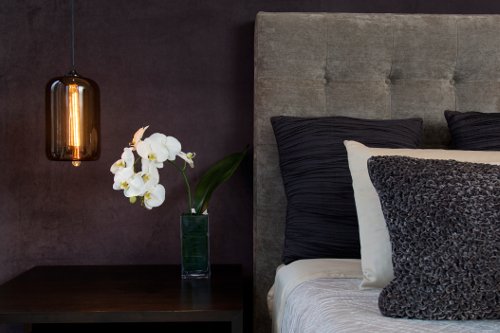 When it comes to ensuring a restful night's sleep and building a special place to explore intimacy, focusing on one or two popular bedroom décor ideas may cause you to lose the proverbial forest for the trees. Sexual interaction, after all, is about more than one aspect, so your ideal bedroom shouldn't be reduced to a color palette or a certain thread count of sheets. Here are some ideas that will set the mood and cocoon you and your partner in a lush romantic setting with only a little effort.
Comfort
The pillow that you use under your head is only the beginning of setting up a bed that invites partners to linger and indulge. Pillows not only coax you into bed in order to get cozy, they provide comfort by giving you a handy tool to elevate your legs and hips – whether it be in the middle of lovemaking or simply to alleviate a sort back. While overwhelming your bed with pillows isn't a good route to take – who wants to clear off armfuls of cushions just to go to bed? – adding a few small throw pillows with some "oomph" to their structure will pay off without feeling like a nuisance.
Lighting
A single, harsh overhead light is anything but alluring. Even if you rent and can't change the wiring of your home, you can still turn down the glare of wattage with smart accessorizing. Adding a frosted shade or foregoing overhead lighting entirely in favor of floor and table lamps is a great step towards a zen bedroom. If you are able to change wiring, consider adding a dimmer switch, which will let you get lots of ambiance from a single light source. Candles are a classic accessory for a romantic evening, too. If you'd like to use some, find high quality tapers or cylinder styles and set them up in a place where they won't pose a fire hazard as they cast a warm glow. Even if you only use these candles once in awhile, having them set up ahead of time will keep the mood intact.
Flow
Do you have trouble walking smoothly from the door of your bedroom to your bed? If so, it's time for a little re-arranging! If things are getting exciting with your partner and you want to relocate to the bedroom, navigating around a bookcase near the door or stumbling on a hamper will put a damper on passions. The energy, or chi, that you feel when walking through an unencumbered room gives your heart and spirit a wonderful boost on the path to intimacy, so be sure you invite it in with an "open" arrangement of furniture.
You will spend a full third – or more! – of your life in between the sheets, so if your bedroom is strictly utilitarian, you're only cheating yourself. Indulge a little and take the time to "learn" the feel of your bedroom, as well as how to incorporate it into your intimate activities. With only a few love-centered improvements, your dreaming space can be transformed into a sensual dream come true.