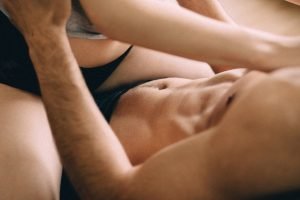 I have something exciting and delicious to share with you. I have been a facilitator and therapist for some time now, helping my clients explore feeling and open to their sensuality, sharing intimacy and touch to offer a profound healing experience. And yet, none of this prepared me to experience it from the other side.
I finally gave myself a long-anticipated gift, something that had been rolling around my mind for a while, evoking equal parts of excitement and hesitation. I hired an escort. I paid for sex, but not just for sex. For touch and intimacy, for the opportunity to surrender to the experience and enjoy being led, rather than leading the way. This was an opportunity for me to reconnect with myself, to take some time out, and simply be held in a sensual space.
On another level, I made the decision to hire an escort so I could feel what it was like to switch roles, to be the client instead of the facilitator. I believe that we can't truly understand an experience unless we feel it from within. In being the client, I could better understand how my own clients feel when they come to me. When they make a decision to find the right person to offer sensual healing touch, when they show up for a session, not knowing what was about to happen, full of all the conflicting emotions that come in with new experiences, especially when these experiences ask us to open up and be vulnerable, to let go and drop in.
For me, the journey began before the session was even booked. I explored my options online, looked through the sites until I found someone that felt right. Even then, I felt threads of uncertainty and hesitation drop in. This was something I'd been wanting to explore for some time, and I wanted to gift myself with the best experience possible. So, I decided to go with a high-priced male escort, one whose profile and image spoke to me, one that really felt like a yes. Even so, I found myself wondering as I was looking at the pictures on the site. Were they real, genuine? I had some pretty high expectations, and alongside these expectations, I found some doubt creeping in.
Once I'd made a decision, I started the process of booking my appointment. I sent an email to the escort – let's call him Jason – and he responded quickly. Seeing it from the client's side, I realised how important it was to me that he be present, even in the communications before the session was booked. Jason was holding space for the experience from our first email. We texted afterwards to confirm the date, and then the decision was made. No going back now.
In the days and hours leading up to our date, I had some interesting feelings drop in. After working professionally with so many clients, I never expected to feel nervous or self-conscious when receiving my own session. Despite all that, I did. Especially in the hours right before Jason arrived, I felt anxiousness rise up. There was excitement, too, but that kind of nervous excitement that happens when you're on the first date or leading up to that first kiss.
At one point, I was so nervous, I could feel my heart pounding in my chest. Along with this flood of feeling came a slew of thoughts: Would he like me? What sort of first impressions would I make? Would we even connect? What would he smell like? It's hard to know how you'll feel about someone when you've never met in person. I was self-conscious, and I was beginning to doubt myself. This whirlwind of thoughts and feelings threatened to really take me off-centre.
I've seen this in so many of my clients. It's not unusual to be nervous before the session begins, but it was different for me to be able to see this from the other side. I took a breath, lit some incense to calm my nerves. I even did a few deep breathing exercises to ground and bring myself back into my body, back into the present. And, by the time Jason arrived, I was ready to invite him into my home.
First impressions: handsome, young, and fit. Jason had an easy way about him that let me relax into the connection, and as we spoke, I found that he was funny, witty, well-spoken, and honest. He had all the qualities of an outstanding escort, everything that I had hoped for and more. Gradually, my nervousness slipped away, and I found that I was really enjoying the interaction.
I paid Jason before we began the session, and then we just spoke for a while – perhaps a half-hour. Before we even moved into touch, I felt completely at ease, nothing rushed, nothing awkward. And when we did enter that space, it was graceful, comfortable. At first, my facilitator side popped up, wanting to guide and control the experience. But, I pulled back, let go, and allowed Jason to lead the way. And this was beautiful for me to see as well, how challenging it can be to really surrender, and how incredible it can be to be held in such a delicious, vulnerable space.
My attention was drawn in to the touch, my body opened, and I had a juicy, sensual encounter. On a personal level, I had a delightful indulgence, a gift to myself that I won't be forgetting any time soon. And, on a professional level, I was able to experience aspects of being a client that I would never have understood without feeling it from the inside.
We all need touch and intimacy in our lives. We need simple touch, hugging, and massage, as well as those deeper and sexier forms of touch that we can share with a trusted partner. These experiences make us feel more alive and vital, they brighten our world and make us healthier, in mind, body, and soul. Each of us needs an opportunity to indulge ourselves, to surrender control and drop into our bodies, into the pleasure of the moment.
After my date with Jason, I feel sexier, more confident, and more alive. Although I knew that this was what I offer clients, it's different to truly feel it, to know it from the side of the receiver. And in really feeling it, I better understand what my clients need and desire, what they are going through when they come to me for a session. I also have a deeper sense of softness and compassion for those clients who come to me nervous. I really get it.
Jason offered me a truly wonderful experience, and it is one that I can whole-heartedly recommend to anyone that wishes to explore themselves, their intimacy and capacity for connection. Thank you, Jason. This was something that I had waited for, and it was worth the wait.
In love and light,
Taranga